Aceh (Nangroe Aceh Darussalam)
---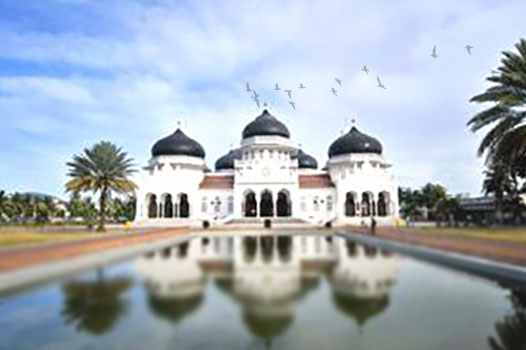 Aceh is rich of events, attraction and unique cultures that it will fascinate anyone. Aceh is also rich in natural beauty, waves and sea garden, which is suitable for diving. Some of most beautiful Aceh tourism and historical sites and beaches have been damaged by the massive earthquake and Dec '04 Tsunami. The name of Aceh Darussalam is come from Aceh language means the welfare and peace Aceh country.
Geographically
Aceh is surrounded by:
North side: Malacca Strait
East Side: North Sumatra Province
South and the west Side: Indian Ocean.
The capital of Aceh is Banda Aceh. The Special Province of Aceh with its area of 57, 365.57 square kilometers covering 1.17 per cent of Indonesia is situated at the northern tip of Sumatra Island, between latitudes 2
In the central part of this province runs Bukit Barisan Mountain ranges with Tangse, Gayo, and Alas uplands. Also, there are several mountains found in the region such as Pasee Mountain with its peak, Geureudong" (2,595 m), and Peut Sagoe (2,708 m), Gayo Mountain range with its peak Burni Telong (2,566 m), and Ucap Malu Mountain range (3,187 m). Other mountains include: Alas mountain with its peak Abong-abong (3,015 m) Leuser (3,466 m), Aceh" Raya Mountain range with its peak Seulawah Agam, (1,762 m) and Seulawah Inong Mountain (868 m).

Latest News
Tsunami Museum Located at Jalan Iskandar Muda, Banda Aceh, the museum is open every day (except Friday) at 10:00 to 12:00 and 15:00 to 17:00. The style of this building is quite unique, it has stage house style or Rumah Panggung, and it resembles a ship with a chimney, when we see from far. Inside the museum, you can find a narrow hallway with rumble noises waterwall on both sides as if to remind the enormity of the tsunami. Aceh Tsunami Museum displays an electronic simulation of the 2004 Indian…
---
---
---
---