Rubiah Island in Sabang City, Aceh - Indonesia
---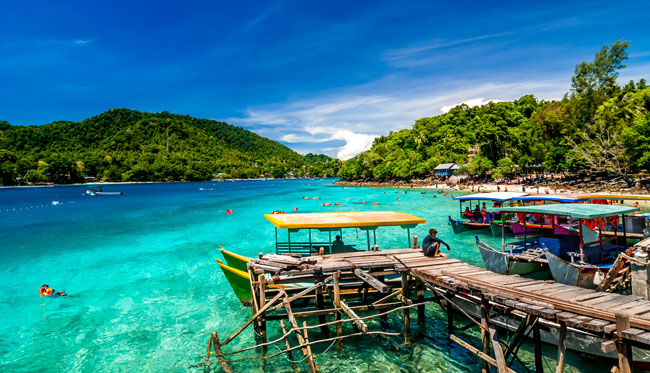 Sabang City in Indonesia become a recommended vacation destination for those who look for the good scenery of nature and peaceful nuance. It even features several small islands that reside near to the major island. One of them is called Rubiah (which is the most famous among others). Due to luring underwater sea scenery, the island has been chosen as the best destination when it comes to water sports including diving and snorkeling. Moreover, the peaceful environment makes Rubiah more popular among citizens or those who want to get rid of stresses.
The Nuance
In terms of territory, Rubiah indeed belongs to Weh Island and part of Sabang City. What about the size? It has the width of about 0.357 km per square. Despite the small size, it offers complete natural attractions, especially amazing beach and flawless underwater scenery. Aside from these, the island even becomes the home of historical structures left by the Nippon and Dutch during the World War II. To be exact, it is the old fortress! No wonder, Rubiah Island is suitable for both marine and historical tourism.
Exploring Rubiah Island
Once arriving at Rubiah Island, tourists can see the flawless scenery of nature directly. It is safe to say that Rubiah is more pristine than Weh Island. It features crystal blue sea water, green serene hills, and white sand beaches too! These look dazzling, so tourists should not miss taking pictures of them during the exploration. On the coastline, they can even see some small boats passing by on the horizon. These, somehow, become a unique object for photography.
What is more? Visitors can learn history and some information regarding the island as well. It is said Rubiah Island once became a transit for hajj pilgrims (during the 1900s). It was because there were no planes back then, so those people used boats to reach Mecca. Another interesting history is that the island also became a base during the World War II. No wonder, tourists may find the reminiscence of the old fortress in some part of the island. Make sure to visit it!
The next thing to do is to visit the beaches and explore the underwater beauty. Like Weh Island, Rubiah has stunning sea with its numerous marine creatures and corals. This explains why snorkeling and diving are quite recommended for tourists. It is because they can encounter beautiful fishes like Nemo (clown fish), lion fish, botana, angel fish, and much more!
Nearby Attractions
Rubiah Tirta Divers
Flying Elephant Yoga
Rubiah Beach
How to Get There
For those coming from Banda Aceh City, their first destination is indeed Weh Island or Sabang City. If they come by ferry, the trip may take about 90 minutes. For a faster one, it is recommended to take a speedboat to get there (which only takes about 45 minutes). From Sabang, they need to rent a boat to get to Rubiah Island. Have no worries. It only takes about 30 minutes to reach Rubiah.
Where to Stay
Kyriad Muraya Hotel
Mr. Bean Resort
Fie Resort
Anoi Itam Resort