Weh Island in Sabang City, Aceh - Indonesia
---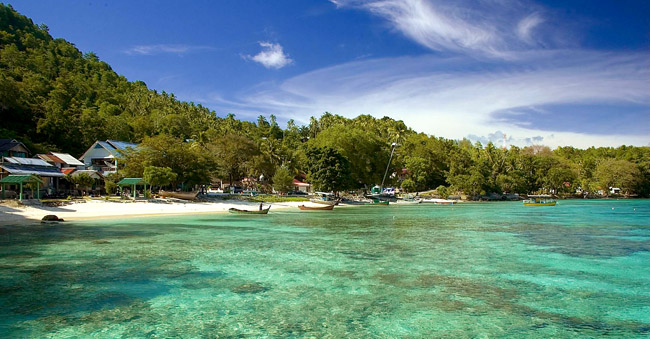 Sabang City resides in Weh Island, Aceh Province. Well, Weh is also the biggest island, as compared to other islands that reside in that area. Not to mention it is located in the westernmost of Indonesia and has been recommended by many tour agents these days. Not only it offers many choices of natural attractions to explore, the island is perfect for many tourist activities like snorkeling and diving. Some tourists even take advantage of the serenity of the island to relax on a resort's balcony while reading books and drinking warm local beverage (even beer!).
The Nuance
In terms of geographic location, Weh Island is located in the Andaman Sea. The highest landscape of the island is none other than the volcano, having the height of 617 meters (about 2024 meters above the sea level. Also, the island is surrounded by several small islands including Rondo, Sulako, Rubiah, and Klah. What about the people who live in it? They consist of several tribes including Batak, Chinese, Minang, and Javanese. No further information is available regarding the history or origin of the island, though.
Exploring Weh Island
The good thing about Weh Island is that visitors can do numerous fun activities during the visit. For instance, they can simply rent a boat and get around the sea while witnessing a group of dolphins swimming on the surface of the sea. In this case, make sure to carry a camera to take pictures of those exotic sea creatures. Even during the voyage to reach the island, tourists may encounter dolphins! Isn't that great? The thing is that they do not appear often, so it requires luck to encounter those fishes.
Once arriving at the island, the first thing to do is to find a homestay or hotel. Have no worries. Many options are available, so tourists can choose one based on their budget and vacation destinations. After resting, make sure try some local foods before visiting any tourist objects in Weh Island. The most recommended one is called Jalak Noodle! It tastes unique and it comes with good texture as well. When it comes to the price, the food costs relatively cheap. Not only it is available in local hotels, but it is also served in several eateries around the island.
The next thing to do is none other than to visit famous tourist objects scattered around Weh Island. These include beaches and some historical landmarks, for sure. For first-timers, it seems daunting to find information about those attractions. In this case, they can take advantage of a tour guide who can help them with both direction and information.
Nearby Attractions
Iboih Beach
Nol Kilometer Monument
Kasih Beach
Tapak Gajah Beach
Sumur Tiga Beach
Anoi Itam Beach
Ujung Kareung Beach
Pasir Putih Beach
Rubiah Island
How to Get There
In order to get to Weh Island in Indonesia, tourists can take either a ferry or speedboat from Banda Aceh City. The fastest one is indeed the speedboat, which takes only 45 minutes. However, tourists should choose the right time to take the speedboat service. According to the schedule, such service is available at several times including at 8 am, 11 am, and 4 pm.
Where to Stay
Cot Bau Hotel
Weh Resort
Pade Dive Resort
Finall Hotel
Murah Hotel
Casa Nemo Hotel
Angel Fratis Hotel