Sumur Tiga Beach in Sabang City, Aceh - Indonesia
---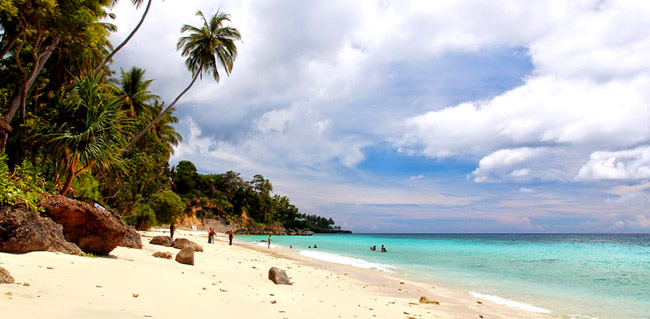 Many beaches await tourists to explore in Sabang City these days. One of them is located in Ie Meulee Village called Sumur Tiga Beach. It belongs to Sukajaya Sub-District and has been chosen as a good place to enjoy water sports and beach walking. Tons of people are impressed with its beauty, so they call it as the Sabang's Hawaii! They even consider it as the best destination to do surfing, snorkeling and swimming (as compared to other beaches in Subang City). So, what about the nuance? Here is further information regarding the beach.
The Nuance
Once arriving at the beach, tourists would be astonished by its stunning soft-textured white sand. Sumur Tiga also features a long coastline, which is the longest among other beaches of Subang City. When it comes to the sea, it offers exotic blue color of water and strong waves. No wonder, it is suitable for surfing especially during the high tide. On the other hand, the waves become calmer in the afternoon (during low tide), which is suitable for snorkeling and swimming. What is more? There is even a good restaurant and hotel located near to the beach!
Exploring Sumur Tiga Beach
Even though Sumur Tiga is located near to Anoi Itam Beach, it has distinct characteristics as compared to the neighboring beaches. The most noticeable one is the flawless white sand that comes with a soft texture. No wonder, tourists would conduct beach walking right away once they arrive at the beach. For those who want to relax, they can simply sit under coconut trees while watching stunning sea scenery ahead. The Zephyr may accompany them during relaxation, as well.
What is next? Here is the fact. Sumur Tiga Beach is facing the east, so it becomes a perfect location to witness a stunning sunrise in the morning. On the horizon, the sun appears slowly accompanied by beautiful clouds and several boats of the fishermen. Sometimes, even dolphins are seen there! Later, in the afternoon, visitors can enjoy snorkeling comfortably due to the low tide and calmer waves. In fact, the sea is suitable for diving and fishing!
Before going home, it is recommended to eat seafood noodle soup and enjoy fresh iced drinks at a nearby eatery. This can be done while watching stunning views of the sea, as well. For those who love photography, they should spend some time to capture great pictures of surrounding scenery too. Thus, do not forget to carry a camera when visiting Sumur Tiga Beach.
Nearby Attractions
Sabang Merauke Stadium
Sarong Beach
Ujung Karoeng Beach
Japanese Fortress
How to Get There
The distance between Subang City and Sumur Tiga Beach is only 2.4 km. That means the trip only takes several minutes to get to the site. From Sabang, travelers can directly head to Sukajaya Sub-District. Next, they can visit Ie Meulee Village right away to get to the beach afterward. As for the route, the best one is Cik Ditiro and Agus Alim Street.
Where to Stay
Fratis Hotel
Casa Nemo Beach Resort
Rade Inn
Perdana Beach Hotel

Latest News
Tsunami Museum Located at Jalan Iskandar Muda, Banda Aceh, the museum is open every day (except Friday) at 10:00 to 12:00 and 15:00 to 17:00. The style of this building is quite unique, it has stage house style or Rumah Panggung, and it resembles a ship with a chimney, when we see from far. Inside the museum, you can find a narrow hallway with rumble noises waterwall on both sides as if to remind the enormity of the tsunami. Aceh Tsunami Museum displays an electronic simulation of the 2004 Indian…
---
---
---
---