Kasih Beach in Sabang City, Aceh - Indonesia
---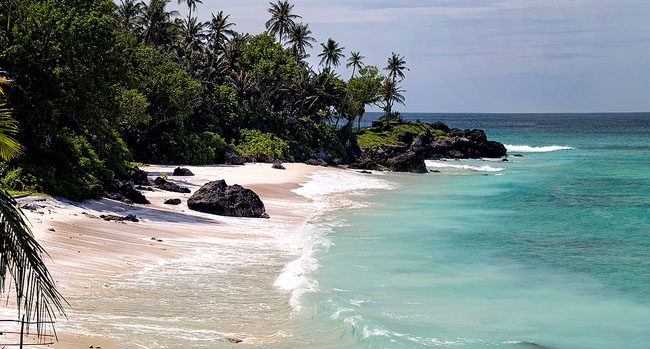 During holidays, tourists should consider visiting the westernmost region of Indonesia called Sabang City. Not only it is famous for its status, it also becomes the home of majestic beach called Kasih. The location is in Ateuh Village and it belongs to Sukakarya Sub-District. The good thing is that the beach resides near to the downtown, so tourists can easily get to the site. The locals often come to the beach to witness the romantic nuance of the sunset and enjoy its clean nature, actually. For some reason, the beach is suitable for family recreation as well.
The Nuance
Kasih Beach is facing west toward Sabang Cape, so it becomes a perfect location to witness the sunset. In terms of nuance, it offers clear and neat environment. Even the local government has built borders along the side of the coastline. The color of seawater is clear and blue, with moderate waves. Tourists can even see several fishermen boats and cruise ships on the horizon sometimes. The next impressive feature of the beach is the presence of palm trees scattered on the peninsula. Even the wind feels so breezy and comfortable!
Exploring Kasih Beach
There is a reason why the beach got its name. "Kasih" means love, actually. Not to mention visitors may find many chairs for couples or lovers. The truth is that the beach becomes a romantic place to spend a good time with someone special. That doesn't mean the beach is only meant for them. Instead, everyone is allowed to explore the site regardless of the age, gender, and status. Some local families often come to the site, as well. These people take advantage of the location to spend a family recreation, beach walking, and water sports.
The next fun activity to do in Kasih Beach is to witness the stunning sunset. Not only it looks romantic, but the sunset helps tourists to relax and relieve stresses in the afternoon. Plus, the presence of palm trees beautifies the ambiance of such moment! This explains why the beach becomes the most crowded in the afternoon (especially between 5 and 6 pm).
What is more? People also come to Kasih Beach to enjoy both swimming and sunbathing. One thing, the waves are considered strong! That means beginners or those with poor swimming skills are not recommended to get in the water. Instead, they can enjoy sunbathing under the warm heat of the sun and on the comfy soft-textured sand. The last thing to do is to eat local foods, especially Aceh Noodle, at a nearby eatery.
Nearby Attractions
Keramat Pandan Beach
Seafood Market
Tapak Gajah Beach
How to Get There
As mentioned before, Kasih Beach resides quite near to Sabang City. The distance is only 850 meters, so tourists can reach the site less than 5 minutes! As for the route, it is better to take Oentoeng Surapati and Sultan Hasanuddin Street. The beach resides to a local settlement, so visitors can park their vehicle there.
Where to Stay
Angel Hotel
Montana Hotel
Putra Salju Hotel
Samudra Hotel
Kartika Hotel