Tapak Gajah Beach in Sabang City, Aceh - Indonesia
---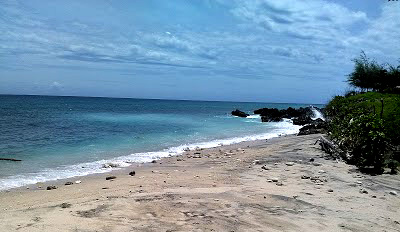 A good vacation always features a wonderful tourist spot, for sure. In this case, travelers should consider visiting Sabang City in Indonesia and head to a majestic beach called Tapak Gajah. It is located in Ie Meulee Village (Tapak Gajah Village) and belongs to Sukajaya Sub-District. To be exact, it resides on Weh Island and offers the flawless beauty of sea scenery and pristine nature. Knowing the fact, visitors can take advantage of the location to enjoy photography, lessening, snorkeling, and sightseeing. In terms of name, "Tapak Gajah" means the footprint of an elephant! Though, no valid information is available regarding the history of the name.
The Nuance
In terms of nuance, Tapak Gajah Beach offers a serene atmosphere and stunning landscape of the environment. The sand of the coastline is white and it comes in a soft texture, as well. Thus, the beach can accommodate those who love beach walking. The wind blows comfortably as well, regardless of the time. What is more? The beach also features coconut trees that grow abundantly, featuring several bushes and grasses as well. Another interesting feature is the presence of Jurong Keramat Gampong Mosque located near to the beach!
Exploring Tapak Gajah Beach
Despite the different stories, most locals may tell tourists regarding the history of the name of Tapak Gajah Beach. In the past, villagers found an inscription having the shape of elephant's foot. Due to such historical finding, they use it as the name of the village. What about the beach? Since it is located within the village's territory, it shares the same name indeed. For more information regarding such story, tourists should ask either villagers or tour guides.
After learning the history of Tapak Gajah Beach, it is the time to enjoy fun activities like snorkeling and diving. The thing is that tourists should have prepared the gear beforehand (especially those who do not want to spend more money to rent the gear). As an alternative, they can head to nearby facility or service to rent items including swimming suit, oxygen tube, buoy, etc. Do not forget to prepare more money to rent the boat as well.
During snorkeling or diving, tourists can use an underwater camera and take pictures of fishes and corals! As for the tip, it is recommended to conduct snorkeling with friends or an instructor. It is both safer and merrier that way, after all. Later, before going home, they can take some sand and store it in a bottle as a souvenir. Inserting small corals and shells are also recommended, for a more beautiful result.
Nearby Attractions
Kasih Beach
Keramat Pandan Beach
Seafood Market
How to Get There
From Sabang City in Indonesia, a trip to Tapak Gajah Beach only takes about 5 minutes! It is because the distance is only 1.5 km, so tourists can easily get to the location regardless of the transportation choice. As for the route, the best one is none other than Tengku Cik Ditiro Street.
Where to Stay
Angel Hotel
Montana Hotel
Putra Salju Hotel
Samudra Hotel
Kartika Hotel

Latest News
Tsunami Museum Located at Jalan Iskandar Muda, Banda Aceh, the museum is open every day (except Friday) at 10:00 to 12:00 and 15:00 to 17:00. The style of this building is quite unique, it has stage house style or Rumah Panggung, and it resembles a ship with a chimney, when we see from far. Inside the museum, you can find a narrow hallway with rumble noises waterwall on both sides as if to remind the enormity of the tsunami. Aceh Tsunami Museum displays an electronic simulation of the 2004 Indian…
---
---
---
---