Beautiful Rubiah Beach in Rubiah Island, Aceh - Indonesia
---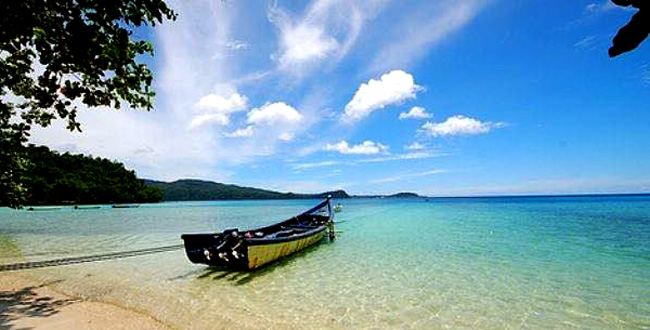 Most travelers know Sabang Island as the westernmost region of Indonesia. Also, they are aware of its natural attractions including the stunning Rubiah Beach. As the name suggests, the beach is located on Rubiah Island and has become Sabang's sea park for decades. That means tourists can enjoy memorable marine tourism on the site comfortably. The beach resides on a small and uninhabited island, so it feels peaceful to spend a holiday there. The fact is that Rubiah is located within Weh Island's territory and it has an easy accessibility as well.
The Nuance
In terms of territory, Rubiah Beach is located in Iboih Village and it belongs to Sukakarya Sub-District of Indonesia. The location is near to Teupin Layeu, which is only 150 meters apart! The name Rubiah derives from a woman's name (Nyak Rubiah). Tourists can learn about the history from the locals once they get in the site, actually. As mentioned before, there is no village or people living in that area. That means the nuance feels so serene, coming with pristine environment and stunning coastline. During snorkeling, people can even see exotic fishes like nemo, lion fishes, angel fish, and much more!
Exploring Rubiah Beach
Snorkeling and swimming become the major activities that tourists can enjoy in Rubiah Beach. After all, the surface of the water is calm and the sea offers an astonishing visibility to both snorkelers and divers. It is just similar to a giant aquarium! Beneath, numerous species of fishes and corals live abundantly as well. For tourists, they do not even need to carry snorkeling equipment. It is because they can simply rent it from the available services.
The next recommended activity to do in Rubiah Beach is none other than beach walking. The flawless white sand looks so luring, after all. Even it comes with a soft texture, so it won't hurt tourists' feet during exploration. On the horizon, the beautiful view of green Tosca seawater looks so majestic (featuring calm waves and breezy wind). Sometimes, the locals are seen there riding a boat! Here is the good thing. Tourists can rent the boat and explore the beach while witnessing the beauty of the site.
The fact is that Rubiah Beach has become a prime tourist site in Indonesia. This explains why tourists can find good facilities there. These include boat services, shelter, guard post, park, footpath, toilets, and many more. The combination of excellent facilities and amazing natural landscape of the beach may satisfy, for sure!
Nearby Attractions
Rubiah Tirta Divers
Flying Elephant Yoga
How to Get There
From Banda Aceh City, tourists can directly head to Sabang City or Weh Island by either ferry or speedboat. The trip takes about 1 hour and 30 minutes if they take the ferry, though. For a faster trip (which is only 45 minutes), they should consider taking speedboat service. It also takes another boat to Rubiah Island once they get to Weh or Sabang.
Where to Stay
Kyriad Muraya Hotel
Mr. Bean Resort
Fie Resort
Anoi Itam Resort

Latest News
Tsunami Museum Located at Jalan Iskandar Muda, Banda Aceh, the museum is open every day (except Friday) at 10:00 to 12:00 and 15:00 to 17:00. The style of this building is quite unique, it has stage house style or Rumah Panggung, and it resembles a ship with a chimney, when we see from far. Inside the museum, you can find a narrow hallway with rumble noises waterwall on both sides as if to remind the enormity of the tsunami. Aceh Tsunami Museum displays an electronic simulation of the 2004 Indian…
---
---
---
---