Klah Beach in Klah Island, Aceh - Indonesia
---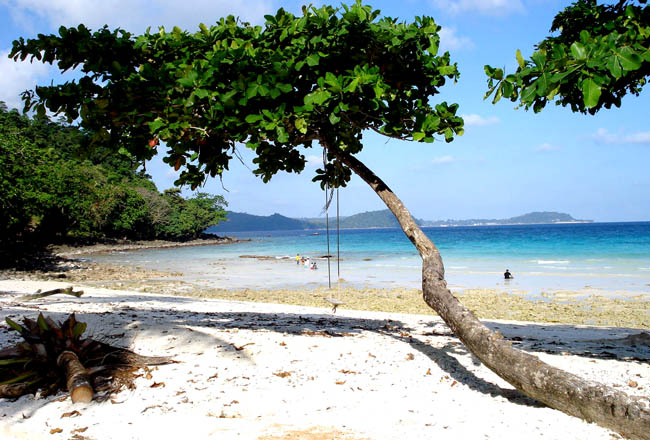 Located near to Weh Island (Sabang), Klah Island becomes a good destination to spend a weekend or holiday. This small island resides in the midst of Sabang Bay and offers mesmerizing sea scenery to visitors! As for tourism, the best attraction of the island is none other than Klah Beach. With the serene nuance and flawless beauty, the beach suits everyone's needs when it comes to relaxing family recreation and lessening. In a nutshell, Klah Beach becomes the perfect location to get rid of stresses and run away from distressing daily routines.
The Nuance
Klah Beach is located on a small uninhabited island. Despite the small size, it offers amazing natural scenery that tourists can't overlook. Many dense trees grow near to the beach, coming with a peaceful nuance as well. The coastline also features steep coral rocks, which often become an object of photography. The best characteristic of the beach is definitely the sea, which becomes the home of valuable fishes like mackerel tuna and Indo-pacific sailfish. Sometimes, during the fishermen's harvest season, there is a bazaar hold on the beach (where tourists can buy those fresh fishes at a cheap price)!
Exploring Klah Beach
Tourists may recognize Klah Beach for its underwater scenery and marine tourism potential. No wonder, the site becomes one of the best places when it comes to snorkeling and diving. As mentioned before, tourists can see numerous types of corals and different species of tropical fish there. Aside from colorful fishes and stunning corals, Klah offers good visibility and clear seawater. This makes snorkeling and diving more comfortable, even for beginners! Not to mention the current is not quite strong.
Aside from underwater exploration, Klah Beach is, somehow, suitable for surfing. During high tide, the waves become stronger after all. That means visitors can enjoy such activity to their heart's content. Those who do not like surfing can choose other activities, instead. These include sightseeing and photography. The beach has a wonderful sunset in the afternoon, featuring romantic sky and good atmosphere. Such perfect moment suits couples or families indeed.
The next recommended activity to do in Klah Beach is to explore the coastline and nearby attractions. Here is the fact. The locals have built several ponds near to the beach, used for fish cultivation. That means tourists can drop by and watch the activities done by the locals on that site. It even gives them the opportunity to take pictures of such moment! Have no worries. Klah Beach has some good facilities for tourists to use, including beach cafes, toilets, and much more.
Nearby Attractions
Weh Island
Seulako Island
How to Get There
From Sabang City, tourists can either reach Krueng Raya or BPKS pier. Once arriving at the location, they must rent a boat and head to Klah Island right away. The location is in the Northwest of Weh Island, actually. Once arriving at Klah, they can head to the beach immediately.
Where to Stay
Recommended hotels are available in Weh Island and Sabang City